About Ponderay Police Department
Our Mission
It is the mission of the Ponderay Police Department to contribute to our community and their desire to live in an environment where it is safe to live, work, play, and visit. We will consistently provide the highest quality of law enforcement, investigation, and support services, encouraging community participation and addressing the causes of crime, thus making the best possible use of the precious resources provided to us.
We are FOCUSED on community policing. By forming a partnership with the community to solve problems of mutual concern, we help improve the quality of life for all of our citizens. We recognize that crime is not just a police problem; it is a community problem. Our officers are encouraged to get to know their community and listen to the concerns of the people. By establishing and maintaining open communication with our community, we are better able to address their concerns. As our community grows, we will continue to remain responsive to the needs of the public we serve.
We are DEDICATED to be recognized as professional, compassionate and knowledgeable. We uphold the public trust by being seen to serve our community in a manner that is fair and impartial. We will act courteously and patiently, without fear, favor, or prejudice to the rights of others. We will always remember that our primary purpose is to add value to the lives of those in our community. 
Chief of Police
Jimmy Cornelius
Chief Jimmy Cornelius is a 34-year veteran of law enforcement who began his career in June of 1989 with the Lubbock Police Department in Texas. Chief Cornelius accepted a position with the Ponderay Police Department in June of 1995 and has served as the department's detective since that time. He was appointed as the Chief of Police on May 28, 2016.
He is a West Texas State University alumnus in criminal justice.
Email: jcornelius@ponderaypd.org
Sergeant Jeremy Deal
Patrol Supervisor
Email: Jdeal@ponderaypd.org 
Sergeant Jeremy Deal is a 26-year veteran of law enforcement who began his law enforcement career in 1997 as a reserve officer for the Sandpoint Police Department. Sergeant Deal held prior positions with the Bonner County Sheriff's Office. Sergeant Deal accepted a position with the Ponderay Police Department in July 2015 as a patrol officer and was promoted to corporal in 2017 and to patrol sergeant in 2021, where he continues to serve.
Sergeant Deal holds patrol certifications of Reserve – Level 1, Basic, Intermediate, Advanced, Master and Supervisor peace officer from Idaho Peace Officer Standards and Training (POST). Sergeant Deal has received over 2,350 hours of POST training throughout his career. Sergeant Deal has taught over 240 hours of POST training to Idaho Peace Officers. Sergeant Deal is a North Idaho College (NIC) alumnus and holds an Associate of Applied Science degree (AAS) in business administration as well as an Associate of Applied Arts degree (AAA) in general studies.
Sergeant Deal holds specialty certifications as a drug recognition expert (DRE) instructor, Idaho POST certified instructor in general topics, Standardized Field Sobriety Testing (SFST), Advanced Roadside Impairment Detection and Enforcement (ARIDE), and drug recognition expert (DRE). Sergeant Deal is a breath testing specialist (BTS), certified field training officer (FTO), and field training officer coordinator. Sergeant Deal holds an Idaho Police Service Dog Certification in Controlled Substance Detection. Sergeant Deal has successfully completed FBI-LEEDA's Supervisor Leadership Institute, Command Leadership Institute, and Executive Leadership Institute. Sergeant Deal received the FBI-LEEDA Trilogy Award.
Sergeant Deal has been recognized with the following awards during his career for his life-saving efforts: Veterans of Foreign Wars (VFW) National Law Enforcement Award, Meritorious Service Award, Lifesaving Award, Certificate of Merit, Letter of Recognition, and a Letter of Appreciation. Sergeant Deal was also a part of Operation Grad Night for 11 years.
Officer Trey Robillard
Patrol Corporal
Email: Trobillard@ponderaypd.org 
Officer Trey Robillard began his law enforcement career when he accepted a patrol position with the Ponderay Police Department in August of 2018.Officer Robillard received an associate degree from North Idaho College in criminal justice. He also attended Gonzaga University and graduated with a bachelor's degree in criminal justice with a minor in sociology in 2017.
Officer Robillard currently holds an Idaho POST intermediate patrol certificate and has accumulated over 800 hours of POST training in his career. Officer Robillard has completed training for Criminal and Drug Interdiction, Advanced Roadside Impaired Driving Enforcement (ARIDE), and mental health Crisis Intervention Training (CIT). He is also certified as a field training officer (FTO) for new officers.
In August of 2022, Officer Robillard was promoted to the rank of Corporal. 
Officer Cameron Simeral
Patrol Officer
Email: Csimeral@ponderaypd.org 
Officer Cameron Simeral is a 16-year law enforcement veteran who began his career in Wyoming in 2006. He was the honor graduate of the Wyoming Law Enforcement Academy in 2006 and worked for two different Wyoming agencies as both an active and reserve officer. In 2008, he received the Officer of the Year award for his outstanding work with abuse victims. He served two years at the Bonner County Sheriff's Office, working as a patrol deputy and a member of the Emergency Response Team (ERT). Officer Simeral accepted a position with the Ponderay Police Department in July of 2020.Officer Simeral has advanced POST certificates in both Idaho and Wyoming and has received over 1,600 hours of POST training throughout his career. He has a bachelor's degree in security and protection management from Henley-Putnam University and served in the United States Air Force from 2000 to 2004.Officer Simeral has held certifications as a field training officer (FTO), firearms instructor, and SWAT operator. He has taught civilian firearms courses in both group and individual student settings. Officer Simeral serves as the firearms instructor for the department.
Detective Joe Kaufman
Detective
Email: Jkaufman@ponderaypd.org 
Detective Joseph Kaufman is a 23-year veteran of law enforcement who began his career in 1999 as a marine deputy for the Kootenai County Sheriff's Office. Officer Kaufman served as a police officer for the Lincoln Police Department (Nebraska) for 10 years and the Carrollton Police Department (Texas) for 10 years prior to accepting a position with the Ponderay Police Department in July 2020. Officer Kaufman was then promoted to Detective in April of 2022.Detective Kaufman holds a BS degree in business administration from Bellevue University and an AAS degree in law enforcement from North Idaho College. Officer Kaufman has held many positions throughout his career, including investigator, field training officer (FTO), drug recognition expert (DRE), defensive tactics instructor, and academy instructor.
Detective Kaufman is tasked with investigating serious misdemeanor and felony crimes that occur within the City of Ponderay.
Officer Jared Ekstrom
Patrol Officer
Email: Jekstrom@ponderaypd.org
Officer Jared Ekstrom began his law enforcement career at the Kootenai County Sheriff's Office in 2018 as a Detention Deputy. During his time there, he earned a life saving award in 2020. He then accepted a patrol position with the Ponderay Police Department in May of 2022.
Prior to his law enforcement career, Officer Ekstrom attended Whitworth University, receiving a Bachelors Degree in Sociology with an emphasis in Criminal Justice, as well as a Bachelors Degree in Psychology of Leadership.
Officer Ekstrom has earned over 1,000 POST Training Hours throughout his career, as well as certifications as an Intermediate Detention Deputy and an Intermediate Patrol Officer.
Officer David Huptich
Patrol Officer
Email: Dhuptich@Ponderaypd.org
Officer David Huptich is a 25-year Law Enforcement veteran who began his law enforcement career in 1996 with the Chicago Police Department. Officer Huptich worked both Uniformed Patrol, as well as member of the plain-clothes Tactical Team in the 2nd District. During that time, he worked Narcotics and Gangs emphasis and gained experience as a undercover officer in the many of the Chicago Housing projects.
Officer Huptich then joined Phoenix Police Department as a Patrol Officer in 2001- where he served for over 20 years. He was assigned to patrol in high crime areas, where he was eventually selected to as a Walking Beat Officer, with specially emphasis on narcotics and proactive enforcement. Officer Huptich has conducted several undercover operations in his career with both the Chicago Police Department and Phoenix Police Department. He also served as a Ram Operator on search warrant entry teams.
In May of 2022 Officer Huptich accepted a position with the Ponderay Police Department where he currently serves as a Patrol Officer.
Officer David Huptich has a Bachelor's degree in Criminal Justice with a minor in Sociology from Western Michigan University.
Officer Huptich has received numerous awards and several honorable mentions, such as: Special Service Award, Distinguished Service Award, Community Based Policing Award and Employee of the Month Award for his service throughout his law enforcement Career.
He has also received over a 1000 hours of law enforcement training, including: Advanced Search Warrant Entry, Highway Interdiction, Advanced Undercover & Survival Training, Crisis Intervention, Advanced Building Searches and Arizona Post Investigator Detective Training. He has held memberships in the Advanced Undercover Officers Association, Arizona Narcotics Officers Association and the International Arizona Gang Investigators Association.
Beth Dunlap
Records/Evidence
Email: bdunlap@ponderaypd.org 

Ponderay Police Department History​



The Ponderay Police Department was founded in 1994 with three sworn officers and one patrol vehicle. As of now, we have seven sworn officers on staff and an administrative assistant whose primary duties include the day-to-day administrative functions such as records, evidence, and walk-in reports. We have four fully outfitted patrol vehicles (Ford Explorer Police Interceptor and Dodge Durango Police Units). The Ponderay Police Department is located in a re-fitted log home located within the business district of the City of Ponderay and is the only department of its kind in the state of Idaho. The department provides service to both the residents and visitors to the City of Ponderay.
It is through the dedication of the men and women of the Ponderay Police Department that the department is able to handle the diverse challenges that are presented on a daily basis.
The original plat for Ponderay, Kootenai County, Idaho, was filed on May 5, 1904. Initially, the City of Ponderay was incorporated as the Village of Ponderay on May 27, 1947, and then became the City of Ponderay on November 26, 1968.
Ponderay was a "Company Town" in that it was built on the Panhandle Smelting and Refining Company's town site (The company's slag pile is known today as "Black Rock."). Panhandle Smelting and Refining Company also erected a substantial hotel, office buildings, and residences for its employees.
Railroads and timber industries bolstered Ponderay's economy as well, along with boarding houses, saloons, and a bank. The First State Bank of Ponderay occupied a two-story building of processed white brick with granite trim, a building that is still standing today.
Another significant contribution was that of the Ponderay Transportation Company, which carried mail to and from all of the post offices on Lake Pend Oreille. This was accomplished through the use of two powerful steam tugs, "The Ponderay" and "The Belle."
Today, Ponderay is the gateway to Schweitzer Mountain and has become a one-stop shopping destination with plenty of free parking and one hundred seventy-plus businesses, including Walmart, Home Depot, Bonner Mall, various car dealerships, and fast-food restaurants. The city also has Diedrich Manufacturing, Cygnus, Inc., along with various other manufacturing businesses, and is the home of The Laughing Dog Brewing.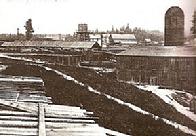 Law Enforcement Code of Ethics



As a law enforcement officer, my fundamental duty is to serve the community; to safeguard lives and property; to protect the innocent against deception, the weak against oppression or intimidation, and the peaceful against violence or disorder; and to respect the constitutional rights of all to liberty, equality, and justice.
I will keep my private life unsullied as an example to all and will behave in a manner that does not bring discredit to me or to my agency. I will maintain courageous calm in the face of danger, scorn, or ridicule; develop self-restraint; and be constantly mindful of the welfare of others. Honest in thought and deed, both in my personal and official life, I will be exemplary in obeying the law and the regulations of my department. Whatever I see or hear of a confidential nature or that is confided to me in my official capacity will be kept ever secret unless revelation is necessary for the performance of my duty.
I will never act officiously or permit personal feelings, prejudices, political beliefs, aspirations, animosities, or friendships to influence my decisions. With no compromise for crime and the relentless prosecution of criminals, I will enforce the law courteously and appropriately without fear or favor, malice or ill will, never employing unnecessary force or violence and never accepting gratuities.
I recognize the badge of my office as a symbol of public faith, and I accept it as a public trust to be held so long as I am true to the ethics of law enforcement service. I will never engage in acts of corruption or bribery, nor will I condone such acts by other law enforcement officers. I will cooperate with all legally authorized agencies and their representatives in the pursuit of justice.
I know that I alone am responsible for my own standard of professional performance and will take every reasonable opportunity to enhance and improve my level of knowledge and competence.
I will constantly strive to achieve these objectives and ideals, dedicating myself before God to my chosen profession . . . law enforcement.